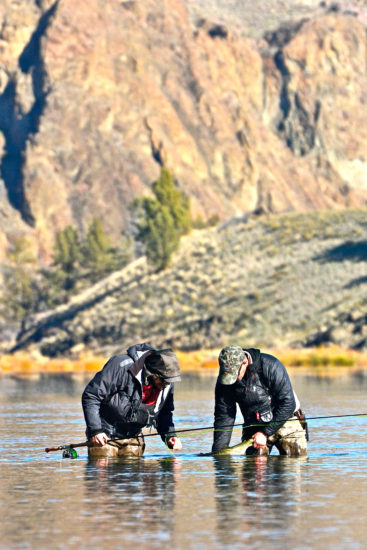 Allow me to introduce myself:
I'm Brian Silvey, Owner of a year-round Oregon flyfishing guide service operated from my home in Maupin, Oregon. Having grown up on the Deschutes and Sandy Rivers, I know these waters well and can guide you on a trip you won't soon forget.
I have been involved in the Flyfishing industry in many facets.
23 years as a flyfishing guide along the banks of the Deschutes and Sandy Rivers.
Hold a degree in Fisheries – Fish Biology & Fisheries Management Oregon Dept of Fish & Wildlife as a experimental biologist aid
28 years as a private and commercial Fly Tier
Signature tier for Idylewilde Flies
My flies have been in several Books and Magazines
Have instructed Fly Tying and Fly casting classes
Won the Best Of The West Fly casting contest in Seattle
5 wt rod won with 102 ft cast – 1999
Certified as a Flyfishing casting instructor
I use both conventional fly rods and traditional two handed (spey) rods
I love my job and when I have "down time" from guiding, you can find me enjoying the river, fishing … or rock hunting … with my son and daughter, or simply enjoying the surrounding beauty of the area.
You will find Brian as guest guide with us in the summer and fall on the Grande Ronde and John Day Rivers. In his down time see what he does by clicking the link below:
http://www.silveysflyfishing.com/
1-800-510-1702